Cisco Certified Network Associate Wireless
CCNA Wireless Certification Package

Cisco Wireless Training Cisco Exam (640-722) - Implementing Cisco Unified Wireless Networking Essentials (IUWNE)
COVERS NEWEST Cisco Wireless Exam

Affordable - Easy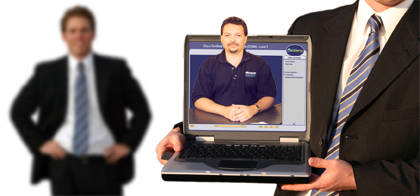 "... offers trainer-led instruction without the classroom price. The company's approach offers a nice compromise between self-paced study and formal training . An instructor leads each tutorial, so there's a clear structure to the training. But you can still go back and review the tutorials as often as necessary."

Cisco Certified Network Associate Wireless (CCNA® Wireless) validates associate-level knowledge and skills to configure, implement and support of wireless LANs, specifically those networks using Cisco equipment. With a CCNA Wireless certification, network professionals can support a basic wireless network on a Cisco WLAN in a SMB to enterprise network. The CCNA Wireless curriculum includes information and practice activities to prepare them for configuring, monitoring and troubleshooting basic tasks of a Cisco WLAN in SMB and Enterprise networks.

Our Cisco CCNA Wireless training program strictly follows the Cisco's Official training curriculums.
Course Introduction
Module 1 - Wireless Fundamentals
Wireless Fundamentals
Introducing Wireless Networks and Topologies
Wireless Today
Wireless Usage and Topologies
Wireless Personal Area Network
Wireless LAN
Wireless Metro Area Network
Wireless WAN
Ad Hoc Networks
Infrastructure Mode
Service Set Identifier
Workgroup Bridge
Repeaters
Outdoor Wireless Bridges
Mesh Networks
Section 01 Summary
Introducing WLAN RF Principles
Wireless Spectrum
Frequency
Wavelength
Amplitude
Free Path Loss
Absorption
Reflection
Multipath
Multipath: Phase
Scattering
Refraction
Line of Sight
Fresnel Zone
RSSI and SNR
Section 02 Summary Understanding Radio Frequency Mathematics
Watts, Milliwatts, and Decibels
Decibels
dBm
Decibel Referenced to Isotropic Antenna
Decibel Referenced to Dipole Antenna
Effective Isotropic Radiated Power
Section 03 Summary
Describing Antennae
Antenna Principles
Polarization
Magnetic Field
Diversity
Antenna Types
Basic Omnidirectional
Omnidirectionals
AIR ANT 2506/24120
Special "Omnis"
Directional Antennae
Directional
Cables and Connectors
Attenuators and Amplifiers
Lightening Arrestors
Splitters
Section 04 Summary
Understanding Spread Spectrum Technologies
Spread Spectrum
FHSS Versus DSSS
DSSS: Encoding
DSSS Modulations: DBPSK and DQPSK
DSSS Modulation: CCK
Orthogonal Frequency-Division Multiplexing
OFDM Modulations: BPSK and QPSK
OFDM Modulation: QAM
Channels and Overlap Issues
Section 05 Summary
Introducing Wireless Regulation Bodies, Standards, and Certifications
The IEEE
The Wi-Fi Alliance
Regulatory Bodies
FCC Part 15 Antenna Requirements
2.4-GHz EIRP Output Rules—FCC Example
2.4-GHz EIRP Output Rules—ETSI Example
Wireless Spectrum
Current State of 5-GHz 802.11a Spectrum
Some IEEE 802.11 Standard Activities
802.11 Standards for Spectrums and Speeds
802.11
802.11b
802.11b Speed Coverage
802.11g
802.11b/g Cell Speeds
802.11b/g Encoding and Modulations
802.11b and 802.11g Coexistence
802.11a
802.11a Spectrum
802.11a Speeds
Comparing the Technologies 802.11a Data Rates
802.11n: State of the Protocol
Greater Reliability and Predictability
802.11n Channel Aggregation
Block Acknowledgment
Spatial Multiplexing
Transmit Beamforming
Maximal Ratio Combining
MIMO Benefits
Section 06 Summary
Examining Wireless Media Access
Sending a Frame
After a Frame Is Sent
802.11 Frame Shape
Frame Types
802.11 Frame Speeds
Discovering the Network (Mgmt Frames)
Connecting (Mgmt Frames)
Staying Connected (Mgmt Frames)
Control Frames
WMM Enhancement
Power Save Mode
Section 07 Summary
Understanding Non-802.11 Wireless Technologies and Their Impact on WLANs
Bluetooth
Cordless Phones
ZigBee
ZigBee Networks
Other Non-802.11 Interferers
WiMAX Technology
Section 08 Summary
Reviewing the Wireless Frame Journey: End-to-End
Discovering the Network
Getting Connected
Clients in Cells
Sending in the Cell
Creating the 802.11 Frame
Acknowledging the Frame
AP Forwarding to Network
AP Forwarding to Controller
In the Controller, Header Is Rewritten
Wired Segment
In the Controller, on the Way Back
The AP Forwards the Answer
Using the Optimal Speed
The Right Client Processes the Frame
All Frames Are Sent to the Same AP Radio
Controller Needs to Keep SSIDs Separated
VLANs
VLAN Operation
802.1Q Trunking 01
Understanding Native VLANs
Mapping SSIDs to VLANs
Configuring VLANs and Trunks
VLAN Creation Guidelines
Adding a VLAN
Assigning Switch Ports to a VLAN
Verifying VLAN Membership
802.1Q Trunking 02
Configuring 802.1Q Trunking
Verifying a Trunk
Section 09 Summary
Module 1 Review
Module 2 - Basic Cisco WLAN Installation
Basic Cisco WLAN Installation
Understanding Cisco Unified Wireless Networks Basic Architecture
Cisco Unified Wireless Networks Basics
Standalone and Lightweight APs
Cisco Unified Controller-Based Solution
Cisco "Split MAC" Design
Dynamic RF Management
Dynamic Channel Assignment and Transmit Power Optimization
Wireless Virtual LAN Support
Client Roaming and Dynamic Load Balancing
Cisco Unified Wireless Network Components
Cisco Unified Wireless LAN Access Points
Cisco Aironet 1130AG Series Access Point
Cisco Aironet 1240AG Series Access Point
Cisco Aironet 1250 AG
Cisco Aironet 1300 Series and 1400 Series Bridges
Wireless LAN Controllers
Cisco 4400 Series WLC
Integrated 3750G WLAN Controller Switch
Cisco WiSM
Cisco 2106 WLC, Cisco WLCM
Branch Office WLC Limitations
Cisco WCS, WCS Navigator, and Location Appliance
Section 01 Summary
Configuring a Controller
Terminology
Ports
Interfaces
Management Interface
AP Manager Interface
AP Manager Interface: Controller > Interfaces > Edit
Virtual Interface
Virtual Interface: Controller > Interfaces > Edit
Service Port Interface
Service Port Interface: Controller > Interfaces > Edit
Dynamic Interfaces
Dynamic Interfaces: Controller > Interfaces > New and Edit
Controller Initial Setup Options
Boot Options
Run Primary or Backup Image
CLI Wizard Configuration Tool
Command Line Interface (CLI) Basic Command Set
Command Line Interface (CLI) config and debug Commands
Controller Web Configuration Wizard Login
Controller Web Configuration Wizard
Connect to the Controller Web Interface
Menu Bar
Administrative Commands
Management > Local Management Users
Security > TACACS+
Management > Mgmt via Wireless
Example: Interface Creation
Example: WLAN Creation
Example: Mapping WLAN to AP
Controller Files
Controller Code Releases
show run-config
show running-config
Section 02 Summary
Discovering and Associating with a Controller
LWAPP Modes
Layer 3 Lightweight AP Protocol (LWAPP)
Controller > General
Access Point Association Sequence
AP LWAPP Discover and Join Overview
AP LWAPP Discovery
LWAPP Layer 3 Discovery
Access Point Join Order
Access Point Join Phase Without Master
Access Point Join Phase With Master
Primary Controller Name
Controller > Advanced > Master Controller Mode
AP LWAPP Join Messages
AP States
LWAPP Configuration Phase
Design: AP Redundancy
Controller Redundancy
Controller Redundancy Designs—N + 1
Controller Redundancy Designs—N + N
Controller Redundancy Designs—N + N + 1
Section 03 Summary
Describing Access Point Operational Modes
AP Mode: Wireless > Access Points > All APs > Detail
Access Point Local Mode
Access Point Local Mode Monitor Timing
Access Point Monitor Mode
Access Point Monitor Mode Monitor Timing
Access Point Sniffer Mode
AP Sniffer Mode Operation
Access Point Rogue Detector Mode
Hybrid REAP
H-REAP
H-REAP in Connected Mode
HREAP in Standalone Mode
AP Bridging Mode
Section 04 Summary
Roaming
Mobility Groups, Mobility Domains
Controller > General
Controller > Mobility Management > Mobility Groups
Roaming Concept
Cisco Wireless Layer 2 Roaming
Client Roaming Within a Subnetwork
Cisco Wireless Layer 3 Roaming
Client Roaming Across Subnetworks
Roaming Example—Preroaming
Roaming Example—Layer 3 Asymmetric
Roaming Example—Layer 3 Symmetric
Symmetric or Asymmetric Tunnelling
Roaming: Tunnels (Symmetric Example)
Cisco Wireless Mobility Anchor
Cisco Wireless Mobility Anchor Considerations
WLANs > Mobility Anchors
Controller > Mobility Management > Mobility Anchor Config
Section 05 Summary
Managing the Network from the Controller
Controller Monitor Page
Access Point Summary
Access Point > Configure
Monitor 802.11b/g/n Radios
Radios > Statistics
Monitor Rogue
Monitor > Active Rogue AP > Detail
Monitor > Active Rogue AP > Detail > Edit
Rogue Containment
Monitor Clients
Monitor Clients > Details
Disabled Clients
Excluded Clients
Clients: Internal DHCP Server
Section 06 Summary
Configuring and Migrating Standalone Access Points
Managing the Access Point
Main Menu: Home
Express Setup Menu
Express Security Setup
Network Interfaces
Radio1-802.11A Network Interface
Aironet AP Cisco IOS-to-LWAPP Conversion
Cisco IOS-to-LWAPP Conversion Utility
LWAPP-to-Cisco IOS Conversion
Adding Standalone Access Points to WCS
Converting APs to LWAPP Using WCS
Section 07 Summary
Understanding the Cisco Mobility Express Architecture
Cisco Smart Business Communication System
WLAN Solutions Overview Positioning of Different WLAN Options
Cisco 521 Wireless Express Lightweight Access Point
Cisco 526 Wireless Express Mobility Controller
Deployment Recommendations
Configuring Cisco 521 APs in Standalone Mode
Configuring the Mobility Express Solution
Cisco Configuration Assistant Configuring Standalone 521 AP
Configuring the Cisco 526 Mobility Controller
Configuring the 526 Controller
Section 08 Summary
Module 2 Review
Module 03 - Wireless Clients
Wireless Clients
Using Default Configuration Tools
Linux NetworkManager
Profiles with NetworkManager
Enterprise Type of Profile
MAC AirPort Extreme
Connecting to a Network
Configuring an Ad Hoc Profile
Infrastructure Profile
Advanced Configuration
Advanced Parameters
Wireless Connection Details
Diagnostic
Windows Wireless Zero Configuration (WZC) Overview
Connecting to Preferred WLANs using WZC
Configuring a Profile Using the Wireless Zero Configuration Tool
Configuring a Profile Using the WZC— PSK Authentication
Profile Configuration Example
State Table
Section 01 Summary
Describing Cisco Aironet WLAN Client Adaptors
Cisco ADU and ACAU Overview
Installing the Cisco ADU
Installing Site Survey Utility
Using the Cisco ADU or a Third-Party Tool
Detecting the Adapter and Rebooting
Cisco ADU Current Status Page
Advanced Information
Cisco ADU Profile Manager
Cisco ADU: Creating Profiles
Cisco ADU: Profile Security
Cisco ADU: Advanced Parameters
Cisco ADU: Other Tools—Diagnostic
Cisco Aironet Site Survey Utility
Cisco Aironet Site Survey Utility: Thresholds
Cisco Aironet Site Survey Utility: AP Scan List
Cisco Aironet Configuration Administration Utility
Cisco Aironet Configuration Administration Utility: Profile Management
Cisco ACAU: Global Settings
Section 02 Summary
Describing the Cisco Secure Services Client
The Cisco SSC Overview
The Cisco SSC Licenses
Cisco Secure Services Client Installation
The Cisco SSC—Configuration
The Cisco SSC—Creating New Groups
The Cisco SSC—Creating New SSIDs
Cisco Secure Services Client Administration Utility
Section 03 Summary
Understanding the Cisco Compatible Extensions Program
The Cisco Compatible Extensions Program
Cisco Compatible Extensions Program for Wi-Fi Tags
Cisco Compatible Extensions Explained
Cisco Compatible Extensions Example: Cisco Centralized Key Management
Cisco Compatible Extensions Example: AP-Specified Maximum Power
Cisco Compatible Extensions Example: Enhanced Roaming
Cisco Compatible Extensions Example: Client Link Test
Cisco Compatible Extensions Example: Client Reporting
Cisco Compatible Extensions Example: Client MFP
Section 04 Summary
Module 3 Review
Module 4 - WLAN Security
WLAN Security
Overview of WLAN Security
Wired vs. Wireless Privacy
Authentication
Authenticating Devices vs. Users
Encryption
Symmetric and Asymmetric Encryption
Common Keys
Individual Keys
Wireless Threats
Wireless IDS
Wireless IPS
Management Frame Protection
Infrastructure MFP
Client MFP
Section 01 Summary
Establishing IEEE 802.11 Security
Authentication: Open
WLANs > Edit > Security
Authentication: PSK (WEP)
WEP Configuration
WEP Engine
WEP Limitations
MAC Filtering
WLAN > Edit
Security > AAA > Mac Filtering
Section 02 Summary
Centralizing WLAN Authentication
802.1X
802.1X over Wireless
Unique Encryption Keys
EAP Process
EAP Frame Format
RADIUS
Security > AAA > RADIUS > Authentication
Security > AAA > RADIUS > Authentication > New
WLAN > Edit > Security > AAA Servers
Local EAP
Security > Local EAP > Profiles
Security > Local EAP > Profiles > Edit
Security > Local EAP > EAP-FAST Parameters
Security > AAA > Local Net Users
Security > Local EAP > Authentication Priority
Security >AAA > LDAP
WLAN > Edit
Section 03 Summary
Describing EAP Authentications
Symmetric Keys
Asymmetric Keys
Digital Signature
Trusted Third Party
Certificates
PKI
EAP-TLS
EAP-FAST
PAC Creation
PAC Exchange
EAP-FAST Authentication
PEAP
PEAP Authentication
LEAP
LEAP Authentication
Section 04 Summary
Managing Authentication and Encryption with WPA and WPA2
Wi-Fi Protected Access (WPA)
WPA Authentication Modes
WPA Authentication Process
Purpose of Each WPA Phase
Unicast Keys: Four-Way Handshake
Group Key Handshake
WPA: Longer Key, Longer Initialization Vector
WPA: Per-Packet Key Mixing
Message Integrity Check
WPA Pre-Shared Key (PSK) Authentication: Offline Dictionary Attack
WPA2 and IEEE 802.11i
IEEE 802.11i and AES Encryption
WPA/WPA2/802.11i Comparison
802.11i Key Caching and Preauthentication
Cisco Centralized Key Management
Section 05 Summary
Configuring Wireless Security on Controllers and Clients
Security Policy Logic
WLAN > Edit > Security
Security
802.1X
802.1X + WEP
WPA + WPA2
WZC Association
WZC Authentication
WZC Authentication: Smart Card or Certificate
WZC: PEAP
NetworkManager
Mac AirPort Extreme
Cisco ADU: Profile Security
Web Authentication
Web Authentication Process
WLAN > Edit > Security > Layer 3
Security > Web Auth > Web Login Page
Security > Web Auth > Web Authentication Certificate
Section 06 Summary
Module 4 Review
Module 5 - Cisco WCS Administration
Cisco WCS Administration
Introducing Cisco WCS and Cisco WCS Navigator
WLAN Management Tools
Cisco WCS Location Tracking
Cisco WCS with Location Appliance
Cisco WCS Versions
Cisco WCS Licenses
Cisco Spectrum Intelligence Licenses
Cisco WCS Features
Cisco WCS Home Page
Cisco WCS System Management
Cisco WCS WLAN Monitoring
Portal into WLAN Performance
Cisco WCS WLAN Planning
Cisco Spectrum Intelligence
Cisco WCS Navigator Overview
Cisco WCS Navigator Product Specifications
Cisco WCS Navigator Features
Adding Regional Cisco WCS
Administration > AAA > Users WCS
Network Summary
Inventory Reports
Section 01 Summary
Installing Cisco WCS
Cisco WCS System Requirements
Cisco WCS Port Requirements
Cisco WCS Installation
Install or Upgrade
Upgrade
Installation
Access Ports
Cisco WCS Passwords
FTP and TFTP Root Folders
Multihomed Server
Install Folder and Shortcut Folder
Cisco WCS Preinstallation Summary and File Installation
Cisco WCS Installation Complete and Installation Log
Cisco WCS Group
Connecting to Cisco WCS
Adding a License to Cisco WCS
Section 02 Summary
Administering Cisco WCS
Cisco WCS Login
Initial Screen—Home
Administration Menu
Administration > Background Tasks
Administration > AAA
Administration > AAA > Users > Add User
Administration > AAA> Groups > Group Name
Administration > AAA> Users > Audit Trail
Administration > Logging
Administration> Settings > Data Management
Administration> Settings > Mail Server
Administration > User Preferences
Section 03 Summary
Working with Controllers from Cisco WCS
Configuration Tab Overview
Configure > Controllers
Configure > Controller > Add Controllers
Controller Configuration
Configure > Access Points
Audits
Configure > Controllers > Controller Name > System > Commands > Audit Config > Go
Configuration Policy Templates
Creating a Template
Applying Saved Template
Configuration Groups
Configuration Group Settings
AP/Radio Templates
Auto Provisioning
Auto Provisioning Settings
Section 04 Summary
Working with Maps
Maps Overview
Monitor > Maps > Campus
Monitor > Maps > Building
Monitor > Maps > Building > New Floor Area
Monitor > Maps > Building > New Floor Area > Add Access Points
Monitor > Maps > Building > Floor > Add Access Points > Go > OK > Save
Cisco WCS Prediction Versus Site Survey
Map Editor
Map Editor Before and After
Planning Tool
Planning Tool: Add AP
Generate Proposal
Section 05 Summary
Monitoring the Network with Cisco WCS
Initial Screen—Home
Home > Edit Tabs
Home > Edit Content
Home > Personalized Tab
The Monitor Menu
The Alarm Dashboard
Monitor > Controllers
Monitor > Access Points
Monitor > Clients
Associated Clients (vs. Time)
Monitor > Clients > Troubleshoot
Monitor > Security
Monitor > Security—Rogues
Monitor > Security—Miscellaneous
Monitor > Alarms
Monitor > Events
Cisco WCS Location
Location Tracking Methods
Location Tracking Using Closest AP
Location Tracking Using Triangulation
Location Tracking Using RF Fingerprinting
Cisco WCS Location Without Appliance
Cisco WCS Location with Appliance
Searching for a Device
Search > Clients
Recent/Present Map
Section 06 Summary
Module 5 Review
Module 6 - WLAN Maintenance and Troubleshooting
WLAN Maintenance and Troubleshooting
Maintaining the System
Controller Platform and Code Version
Wireless > All APs > Detail > Inventory
Upgrade: GUI Recommended
Apply vs. Save Configuration
Commands > Upload File
show running-config
show run-config
Wireless > All APs > Detail
Commands > Reset to Factory Default
Commands > Reboot System > Save And Reboot or Reboot Without Save
Cisco WCS Automated Backup
Cisco WCS Manual Backup
Cisco WCS Code Upgrade
Section 01 Summary
Design and Site Survey Considerations
Building Materials
Identify Problematic Areas
Signal Attenuation
Non-802.11 Sources of Interference
Microwave Ovens
Bluetooth
Wireless Phones
Analog Cameras
Verifying Coverage with Site Survey
Which Coverage for Which Usage
WLAN Coverage and Capacity
Recommended Parameters for 2.4-GHz Data Networks
Voice Cell Overlap Guidelines
AP Placement for Location
Coverage Overlap
Multifloor Coverage
Site Survey Tools
Basic Survey Tools
Section 02 Summary
Troubleshooting
Visual Elements
Common Controller Issues
Common Client Issues
Hidden Node Issue
Exposed Node Issue
Near-Far Issue
Backward Compatibility Issues
CLI Command: debug
Per-Client Debug Option
CLI Command: show
Layer 2 and Layer 3 Troubleshooting
CLI debug Commands: debug dot11 ? and debug dhcp ?
CLI Command: show client detail
Monitor Clients > Details > Select Client
CLI debug Commands: debug aaa ? and debug dot1x ?
Management > Logs > Config
Management > Logs > Message Logs
Management > SNMP > General
Management > SNMP > Communities and Trap Receiver
Management > SNMP > Trap Logs
Management > SNMP > Trap Controls
Management > Tech Support > Controller Crash
Management > Tech Support > AP Crash Log > Get Log
Cisco WCS Client Troubleshooting Tool
Monitor Client > Troubleshoot
Monitor Clients > Troubleshoot > Log Analysis
Third-Party Tools: Sniffers
Cisco Spectrum Expert
Section 03 Summary
Module 6 Review
Course Closure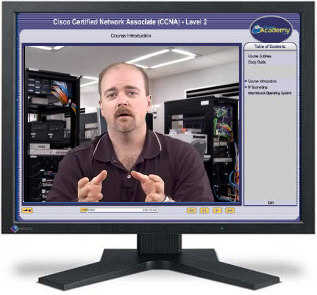 WHAT YOU GET IF YOU ORDER THE CISCO CCNA WIRELESS ONLINE TRAINING TODAY:
12 Months Online Access, Featuring On Demand Instructor-Led Classroom Sessions with Full Audio and Video Lectures

Software Video Demonstrations

Self-Assessment Module Review Quizzes

Printable Workbooks




Cisco Wireless Certification Training CURRENT EXAM
SPECIAL BUNDLE
PRICE IS ONLY $495.00




Demo