PC Check Computer Diagnostics Kit
PC Check is "The Troubleshooter" you need to "check it" with!!


PC Check by Eurosoft
PC Diagnostic Software and PC Diagnostics


Proven since 1988, around the world, Eurosoft PC Check PC diagnostic software and PC Diagnostics POST Card is the most comprehensive, reliable and accurate software PC diagnostic tools for PCs available today. PC Check conveniently fits onto only 1 disk, giving over 500 tests for professional computer diagnostic software. PC
"Taken as a whole, this is a powerful PC diagnostics software tool. I would have no problem with recommending it to any technical support person or hardware hobbyist... No one tool is perfect, but as diagnostic software goes, this ranks near the top of the heap. "
Overclocked Cafe Reviews
"Eurosoft's Pc-Check® has helped to keep our PC hardware services running smoothly for over 6 years running" - Nick Marsh Synstar International.
"We found it to be user friendly and consistent. We have tried other diagnostic tools but found them to be tedious, time consuming and not really user friendly."
Anthony Ross Jr - AT&T
"We are very pleased with the results of using Pc-Check diagnostic utilities and look forward to using the program to its fullest extent."
Mark Drake - Convergent Commmunications
Business benefits:
Technical support included

Saves hundreds of wasted man-hours in fault testing during system building, servicing and repair

Cuts assembly, upgrade and repair test workloads

Improves service reliability and reduces costly returns, RMAs and repairs

Technical highlights:
Ensures that PCs are accurately tested and validated from configuration to core components

Unique Microtopology Memory Testing ensures maximum interrogation of every cell including heat and power-cycling testing

Original self-boot operating system to bypass installed OS for ease of use

RIS/PXE available with site license


PC-Check PC Diagnostic Software offers ease of use coupled with comprehensive diagnostic testing. Both commercial and individual PC users can quickly identify and correct PC problems, and review hardware configurations and performance.
Competition beating memory testing, perfect for any PC – desktops, servers, portables, industrial and remote – PC-Check PC Diagnostic Software saves you time and money! Pc-Check® has a special self-booting program so you can safely avoid boot sector viruses and work independently of operating systems such as Windows® or even Unix. Test results can be easily printed to a file or printer.
Pc-Check®'s advanced diagnostic menu provides precise error identification of both fixed and intermittent faults of all major hardware components. Pc-Check® 's extensive range of tests can be selected for either single-pass, or continuous burn-in testing. Over twelve command line test combinations are available, including interactive tests with Loop-Back Plugs, POST cards, Status Indicator Boxes (S.I.B.s) and error logging to file. The Eurosoft Script Program (E.S.P.) allows you to write your own test test commands to integrate with your existing test routines.
Extensive system information, such as DOS memory mapping of loaded device drivers and CMOS editing in two functional areas means that the installation or reconfiguration of hardware can be achieved easily and quickly. Full analysis of all memory areas, cache sizing and hard & floppy drives allows straightforward and rapid determination of performance and upgrade requirements.
Pc-Check® is updated continuously as new PC hardware comes on to the market. The in-house R&D team stays current with technology, allowing customers to benefit from newly introduced functionality such as intelligent test cycles, multimedia analysis and current system identification.

NEW! Pc-Check Updated Features:
NEW!!! Pc-Check now available and bootable from a CDROM …increase testing coverage, bootable from the CDROM drive. Test PCs without a floppy drive more easily. Also includes Pc-Check v4.54 for testing older PCs without a CDROM drive.
NEW!!! AC'97 audio tests …confirm the functionality of most popular Intel, AMD and VIA on-board audio chipsets with both synthesised and streamed audio.
NEW!! FireWire controller tests …providing universal support for information and verification of your FireWire controller hardware. Performs packet DMA testing and aids compliance level determination.
NEW!! Interactive command line options …hot key activation allows quick and easy selection of session test scripts.
NEW!! System stress test …performs simultaneous hard disk, CDROM, memory and processor activity to check system stability and identify problems that may not occur when components are tested individually.
Enhanced self-boot operating oystem …changes to the EuroDOS operating system permits results output to hidden FAT diagnostic partitions.
Enhanced serial port testing …detect and test up to 8 serial ports on electronic point of sale systems with the new ePoS option.
Enhanced DVD drive testing …using Eurosoft's DVD Test Disk, test that the DVD drive is able to read Format 9 (dual layer) DVDs with the new multi-layer DVD laser refocus test.
Faster drive library start up …user selectable time out value plus more efficient memory use when base memory is tight.

The PC-Check PC Diagnostic Software package
Pc-Check's test package comes complete with Self-booting Diagnostic Software, DVD/CD Test Disk, and all Loop-Back I/O Plugs. Fast to install and easy to use, you can be running over 500 sophisticated diagnostic tests on your PCs swiftly and easily.
For PC manufacturers, Pc-Check can be supplied as a site license for burn-in testing. PC support services and manufacturers both benefit from distributing Virtual Pc-Check as end user bundles.
PC Diagnostic Software Program (OS independent self boot)
*PC-Check is now fully bootable from a CD-ROM, and you can make disks versions too!

Comprehensive instructions

Loop-back plugs (1- 25 pin parallel, 1- 25 pin serial, 9pin serial plugs, 1 Intelligent USB (supports USB 1 and 2)

CD/DVD Rom Test CD

1 Year of Free Upgrades

Full Tech Support
Site Licenses available. Please Call.


DETAILED PC Check HARDWARE AND SOFTWARE FEATURES
Independent testing, fully self-booting, no installation of operating system required

Easy-to-use hardware tests check all PC components are running reliably

Validate prototype and pre-production hardware during original equipment development

Current hardware tests ensure PCs are built, upgraded and repaired correctly, regardless of brand

Core system testing maximizes component reliability and working system integrity

Hardware add-ons included to enhance troubleshooting: Smart USB port test plugs, and CD/DVD ROM Test Disk

Reduces expensive field service calls, 'No Trouble Found' (NTF), wrongful product returns, overstocking field service products

Pc-Check Diagnostic Software

is the worlds number 1 requested PC diagnostic




Why the biggest and busiest computer assemblers and service departments have relied on Pc-Check to provide savings – in time, effort, and testing efficiency – for over 22 years…
Microtopology Memory Testing
• Eurosoft's proprietary Microtopology test is one of several possible memory tests
• Test up to 128 RAM modules or 2 Terabytes of RAM at a time.
• Interrogates memory cells to detect intermittent memory errors.
• Finds BUS noise errors. Completely separates hardware and software
• Self-booting separates hardware from your native operating system.
• Separates hardware from device drivers.
• Prompt identification of hardware.
• Perform state-of-the-art testing.
• Find problems fast. Eliminate costs
• No more time lost on chasing intermittent issues.
• Eradicate time wasted on software and driver problems.
• Typically begin testing within 1 minute of turning on the PC. Integrated system information tools
show hardware in fine detail
• View detailed system information properties of every component.
• See System Management information.
• PCI Bus information.
• IDE Bus information.
• PCMCIA/CardBus information.
• Interrupt Vectors.
• IRQ Routing information. Accurately test and validate PCs…from components to configuration
• Multi-cycle, Timed, Interactive or Passive burn-in testing modes.
• Proprietary Eurosoft algorithms provide a cross-validation platform.
• Unique independent tests.
• Over 70 command line options.
• Obtain detailed configuration as XML.
• Supports multiple processors on all CPU tests.
• Detailed PC information reports.
• ATAPI device usage tests.
• Advanced USB Controller tests. Advanced Diagnostic Test menu offers instant access to all tests
• Identify problems that may not occur when components are tested individually.
• Provides fast intuitive access to diagnostic options on a variety of critical PC hardware – including...
– Processor
– Memory
– Motherboard
– Drives
– Ports
– I/O
– Audio
– Video
– And more...
System Stress Test menu includes
options for stress testing...
• CPU
• Hard Disk
• RAM
• CD/DVD
• Video
• And more...

Pc-Check® lets you...
• Guarantee reliability of all systems you build, install, or service
• Increase your profits by reducing system repairs and returns
• Manage your cash flow with various licenses
• Decrease your support costs with the support bundling license
• See immediate ROI...

Easy to Use – even by end users
• Single CDROM, USB Flash drive, floppy disk or PXE network boot options available with site license
only – totally self-contained.
• Begin testing in 1 minute...without reading the manual.
• Choose from the Test menu.
• Select individual test modules.
• Simple DOS-like GUI offers all tests necessary to guarantee PC reliability.
• Reports reasons for "no fault found" that manufacturer-specific diagnostics can't find. eTest Manager helps create over 65 different start-up options give you total control over Pc-Check
• Windows based script editor used to customise and build Pc-Check images.
• Set and save your testing environment settings for re-use throughout your operation.
• Command line option offers scripted selection of sub-tests.
• Create test scripts for use throughout your entire operation and supply chain.
• Receive exacting consistency and repeatability in PC testing by...
– Saving your burn-in test setup as a file.
– Referencing that file every time you start Pc-Check.
Record/ Save all testing related data
• Save all test results to a file.
• Save the test technician's name.
• Save each system serial number.
• Capture scripted test results as XML.
Enhanced CPU detection and testing
• Test as many as 160 logical processors
simultaneously...including 64-bit.
• Multi-core L2 and L3 cache support.
• JIT code generation and virtual CPU models provide unlimited test combinations. Hard disk performance check
• Test hard disks as large as 16 Petabytes.
• Large sector size support, test new 4k sector size devices.
• Fully test hard disks faster and achieve greater test coverage when using a specified testing duration.
• Interactive test option provides a quick benchmark to indicate possible
disk faults.
• Perform a media sweep for visual analysis of performance stutter, as well as minimum, maximum, and standard deviation transfer rates.
• Superior SMART drive testing
ensures excessive fault detections
will fail a disk...regardless of vendor
SMART implementations or the
reported disk SMART status.
Network card controller tests
• Test high speed (1GB) network cards without an external loopback plug. Improved Trusted Platform Module test
• Ensures that TPM devices are capable of securely storing data, such as passwords.
High Definition Audio tests
• As well as AC97 audio standard test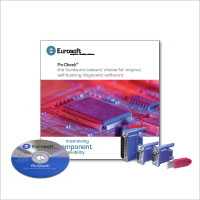 Order this PC CHECK Kit Online Today and Save Time and Money
The PC-Check PC Diagnostic Software package
PC Diagnostic Software Program (OS independent self boot)
*PC-Check is now fully bootable from a CD-ROM, and you can make disks versions too!

Comprehensive instructions

Loop-back plugs (1- 25 pin parallel, 1- 25 pin serial, 9pin serial plugs, 1 Intelligent USB (supports USB 1 and 2)

CD/DVD Rom Test CD

1 Year of Free Upgrades

Full Tech Support
Site Licenses available. Please Call.

BUY PC CHECK BUNDLE TODAY!
Price: $299

BUY NOW PC CHECK Kit Online
Ships within 1 business day usually. Shipping is $25.00.